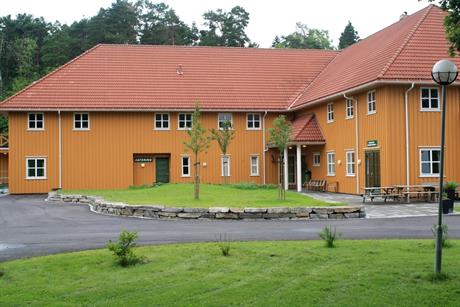 Accommodation Grenland Folkhøyskole
Grenland Folk High School offers affordable accommodation in a rural setting, approx. 4 km from Porsgrunn center. 


Bed & Breakfast from ultimo May to primo August. Larger groups, summer camps, conferences etc. with full pension in the same period.

Total capacity at the school are 120 beds at three boarding schools around the pleasant courtyard. 
Corridor living rooms with fridge / kettle.

Prices: 

New boarding school: 

Double room with bathroom included breakfast: NOK 880, - per room / night . 
 


Large boarding school: 

2 beds toom included breakfast: NOK 730, - per room / night with . 

1 beds room NOK 430, - per night . WC .
Bathroom in the corridor.
Extra mattress in the room: NOK. 150, - 

All prices includes breakfast, linen and towels.

We also offer: 

Gym with a climbing wall, sand volley court, sand volley indoor hall, football field.
20 min walk to the beach.
Banqueting and Catering.

Adress

Tveitanveien 58, Eidanger
3946 Porsgrunn

General facilities

dining room
parking place
recreation room

Licensed premises