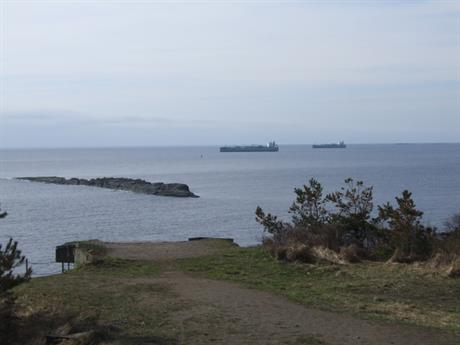 Langesundtangen, Tangen Fort
Langesundtangen recreational area is an abandoned fort which is now a protected recreation area.

Because of the strategic position of the pliers Langesund cordoned off the Germans in 1941 the area and created "Hærkystbatteri".
The area was long military and the place has many memorials after this time.

Scattered around the area are trenches and re-brick entrances to hidden rooms and halls that were blasted into the mountain.
But still today, one can see the bunkers, running times and gun positions.

In 2006, the area got status as a nature reserve. The favorable coastal climate and calcareous soils give it diversity and many rare plant .Fences are erected around many of these to preserve them.

Despite the conservation status makes many trails area available for normal traffic and from the outer part of Langesundtangen is a beautiful city views.

This is a great walking area, but the scenery here is fragile and traffic should be restricted to roads and trodden paths.

Great view from the old bunker farthest out.
Adress

3970 Langesund

See also